Katie and Matt started Our Farm CSA in June of 2010 in Woodlawn, Ontario, because feeding our community and practical food sovereignty is important to us. Originally operating as a vegetable CSA and offering pastured meat chickens for sale, after eight years of pulling weeds in the vegetable garden Katie decided to concentrate on raising pastured sheep and pigs with farmer's market sales of lamb and pork cuts in Arnprior and Almonte. As of 2020 we're back to offering a winter vegetable CSA to help our community get through the pandemic with a guaranteed supply of local food during the pandemic.
Focusing on lamb and pork meant being able to focus more on intensively managing the rotation of the animals on pasture to build soil and better sequester carbon in our soils, which is better for the environment and has a happy consequence of keeping the animals healthier and happier. We are undertaking multi-year trials to see whether the sheep prosper more with intensively managed lambing in the barn in spring, or more hands-off pasture lambing in early summer, and we have transitioned from a commercial mixed breed of hair sheep (Katahdins and Dorpers) to raising a rare heritage breed called Tunis which were originally bred in Tunisia and are very well-suited for our pasture-based system. We also grow our own hay and cereal grains in the summer, so the winter feed for our animals still comes from our farm even when the ground is under two feet of snow! 
Raising sheep and pigs on pasture in eastern Ontario means that we have to cope with not only weather extremes, but also predators! The best way to cope and co-exist with the many coyotes, bears, eagles, fishers, foxes, lynx and all of their friends who belong to and help balance this ecosystem, is to simply fence our livestock in with electric fencing and employ Livestock Guard Dogs. The dogs rarely need to engage with predators beyond barking ferociously, to tell the predator to go find an easier meal somewhere else!
otherwise known as LGDs – are special breeds of working dogs who have been bred for centuries to select for a highly protective instinct and a very low predation drive. Areas of the world that traditionally raised sheep tended to develop their own "landrace" breeds of LGDs, and now the Great Pyrenees are famous in France, the Maremma (aka Maremmano di Abbruzzi) comes primarily from the Abbruzzi region of Spain, the Akbash and Kangal come from Turkey, the Kuvasz comes from Hungary, the Karakachan hails from Bulgari, and the Caucasian Ovcharka comes from the Caucasus region of Russia. 
Eastern Ontario, and the Ottawa Valley especially, is such a predator-rich environment that we would be out of business within a week if we didn't have such a hardworking and well-loved team of dogs protecting our livestock.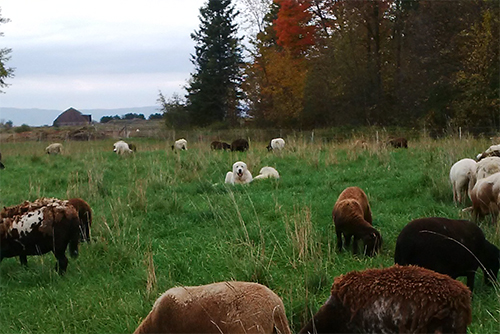 Bear is named for the polar bear he resembled as a puppy. He's currently our old man of the team, and along with his sister he has been protecting our sheep since he was just 16 weeks old. He is a Maremma, and he loves to stay close to his sheep.
Lucy is named for Lucy Pevensy from the Chronicles of Narnia – she's a small but mighty warrior! She may be the old lady of our dog pack, but she doesn't act like it. At six years old, she's a bit more stand-offish than her brother Bear. The only time she ever leaves her sheep is if they've busted out of their electric fence, and then she just comes to find Katie and heads right back to the woolies!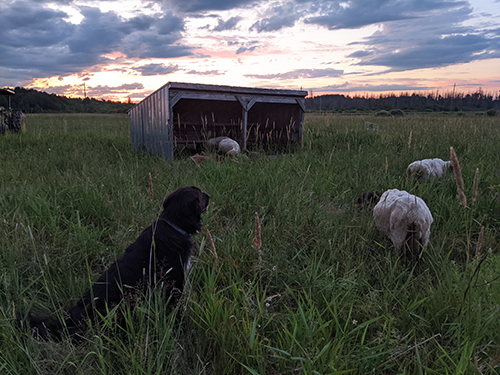 Sif is named for the Marvel Comics hero, Lady Sif, from the the Thor comics and movies. A dark and heroic warrior, she protects the vulnerable sheep. Sif is part Great Pyrenees, part Maremma, and part Karakachan. She has had two litters of puppies for us in the past, most of whom have gone on to become great guardians either here or on other farms, while a few have become pampered pets.
Fraggle is named for the shaggy mop of fluffy fur he had on the top of his head as a puppy. He looked like a darker version of Wembley Fraggle, and the name stuck. He is from Sif's first litter of puppies, and his father was a full Maremma so he is mostly Maremma with some Great Pyrenees and Karakachan mixed in.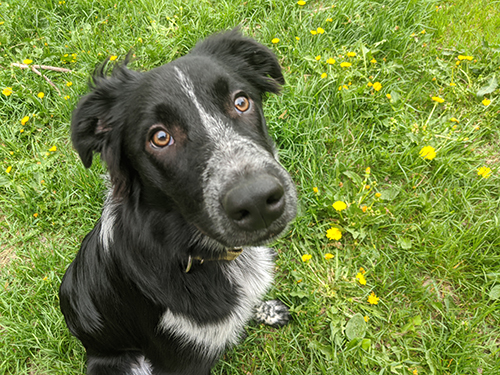 Jet is our herding dog in training. He is mostly Border Collie with a bit of Blue Heeler (aka Australian Cattle Dog) mixed in.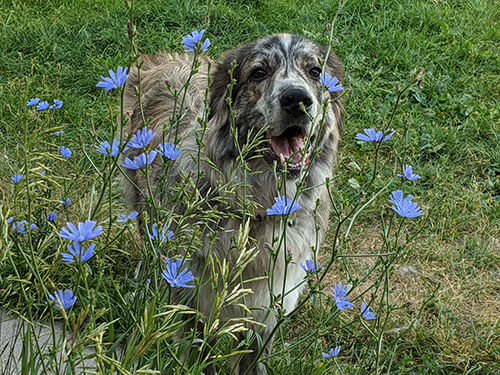 Grizzly is from Sif's second litter of puppies, and he became our house dog after our older, retired LGD named Pup passed away following complications of Lyme disease and old age. Pup, a mix of Great Pyrenees and Akbash, was Grizzly's grandfather; so, Grizzly is a combination of Great Pyrenees, Maremma, Karakachan and Akbash. A bit of a mutt, but he's gorgeous and cuddly and we love him.